Pattern:

adapted from Basic Socks from Learn to Knit Socks by Edie Eckman, but made using heavier yarn and with my shaped toes

Yarn:

Debbie Bliss Merino Aran, [100% merino wool, machine washable],
color: 702 (purple), 301 (charcoal gray), ??? (pale green)

Needles:

US 4

Size:

women's medium

Finished:

December 2003

Comments:

I made these socks with yarn leftover from other projects, hence the strange color combination. They were very warm and cozy but developed big hole at the heel and ball of the foot very quickly. I've had to patch them several times.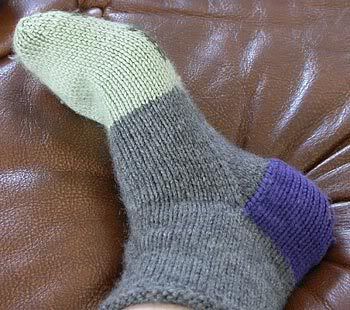 These socks have a weird color combination because I used up scraps from other projects.
Wonderful patching job, huh?
Labels: Socks