Pattern:

adapted from the Ukrainian Socks pattern in Folk Socks by Nancy Bush

Yarn:

Sandnes Smart Superwash, [100% superwash wool,
color: 2523 (beige tweed) and ??? (brown tweed)

Needles:

US 3?

Size:

women's medium

Modifications:

I used only 2 colors instead of the 5 colors shown in the pattern. Also, I did my normal heel flap instead of the Peasant Heel, and a solid toe instead of the patterned toe in the pattern.
I started these socks in 2003, but then abandoned them for about a year, before finally finishing them. That must be why I totally messed up the repeat pattern of the stitch pattern on the second sock (see picture below). Oh well, that just gives them more folksy charm, right?

Finished:

Summer 2004

Comments:

I love the colors of this yarn, but having no nylon content, it was not the best choice for socks. The yarn has worn out at the heel and the ball of the foot. If you look closely at the picture above, you can see where I duplicate stitched these areas with a brown sock yarn.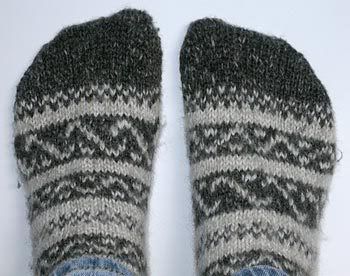 Yeah, they are not the same, but we are calling them folksy.
Labels: Socks