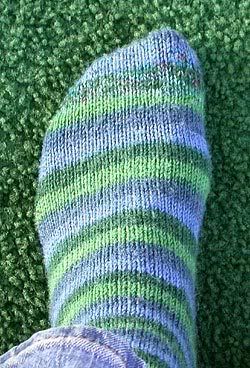 Pattern:

No pattern, sadly

Yarn:

Lana Grossa Meilenweit Fun & Stripes, [80% superwash wool, 20% nylon],
color: 615 (blue & green stripes), 1 ball

Needles:

US 2

Gauge:

7.5 sts/inch

Finished:

Feb 2004?

Comments:

These were my first pair of fingering-weight socks and they came out CRAPPY. I didn't use a pattern, I just adapted a pattern that I had been using for DK-weight yarn. This resulted in a too-loose ankle, a too-long foot, and a generally badly fitting pair of socks. Oh well, at least I learned from my mistakes.
This yarn is also rather awful. It is scratchy and stiff. It has softened up a little after many washings, but it is still remains the most unpleasant sock yarn I've ever used. The yarn comes with some reinforcing yarn, which I used in the toe and heel (you can see that those sections have different colored flecks in the pictures below). However, I don't think the reinforcing yarn was really necessary. I'm actually kind of hoping these socks develop a hole so I can throw them out. However, I only wear them when all my other handknitted socks are dirty, so they don't get much use.
They may not seem so bad in this picture...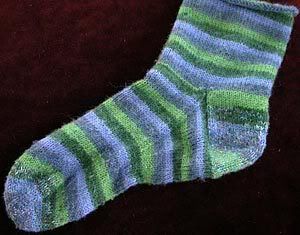 but they are really ugly, misshapen socks
Labels: Socks