Pattern:

my own<

Yarn:

DK-weight double twist cashmere from ColourMart.com, [100% cashmere],
color: brume (light gray)

Needles:

US 3

Gauge:

before washing = 7sts/inch and 10rows/inch
after washing & drying = 7sts/inch and 10.5rows/inch

Size:

women's medium

Finished:

April 2007

Comments:

I made these fingerless gloves for a friend of mine, to keep her hands warm during the cold spring softball games that our daughters are in. I was hoping that they would encourage her to bring her knitting to the games (they would allow her knit and be warm at the same time), but it hasn't worked so far. I am the lone softball game knitter. :(
This cashmere from ColourMart is fabulous. It is so very, very soft. It comes on a cone and still contains oil from the mill. At first it seems kind of stringy and not really anything special, but after you wash and dry it the cashmere blooms and becomes lovely.
I didn't find the oiled yarn at all unpleasant to knit with. It didn't smell or feel oily or anything. After you knit with it, you wash it with a dish-washing detergent like Dawn in hot water to remove the oil. Then you put it in the dryer (yes, the dryer) to fluff up the cashmere. This causes the yarn to shrink up a little, but not as much as you might expect.
This makes knitting with this yarn a little tricky, in that you must knit a large swatch and wash and dry it to see how your gauge will change. However, the result is well worth the hassle.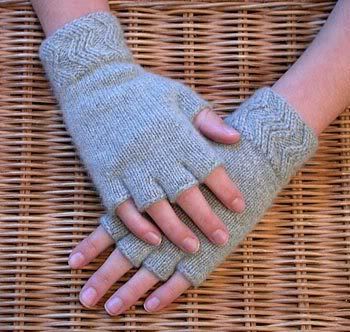 modeled by Daughter#1
detail of cuff
Labels: Mittens/Gloves