Pattern:

Ribbed Cap, from Caps & Hats Two: Vogue Knitting on the Go

Yarn:

Noro Silk Garden, [45% silk, 45% kid mohair, 10% lambswool],
color: ???, 1 ball

Needles:

US 7?

Modifications:

none?

Finished:

November 2006?

Comments:

I was a little disappointed with this particular ball of Silk Garden. The bottom of the hat has interesting, vibrant colors, but at the top of the hat the colors are all gray and washed out.
Also, I think this yarn is just too scratchy for a hat. It bothers me when I wear it and I'm not usually sensitive to scratchy wool. Maybe washing it would help.
Also, I think I made this hat about 1 inch too long. I should probably rip back the top of the hat and start the decreases earlier. However, since the hat is scratchy I may not bother with that.
pretty colors on bottom of hat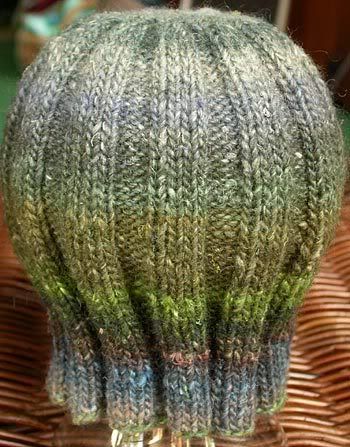 drab, faded colors on top of hat
Labels: Hats