(real photos coming soon)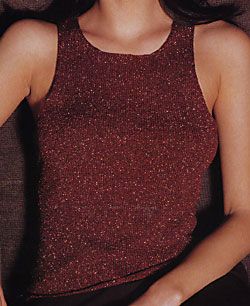 Pattern:

Nightfall sleeveless top (keyhole back version) from Rowan Knitting Magazine Number 30 (Autumn/Winter 2001)

Yarn:

Rowan Lurex Shimmer [80% rayon/20% polyester]
color: 331, Claret

Needles:

US 3

Size:

small

Modifications:

none

Finished:

June 2005

Comments:

This sleeveless top came out well. I love the subtle sparkle of this yarn, but it wore out my fingertips while making it. However, it is not scratchy when I'm wearing it. I think I might make the V-neck version of this in another color.
This model has strange bony shoulders...
Labels: Tops/Sweaters