Pattern:

Jaywalker by Grumperina, from MagKnits Sept 2005

Yarn:

ZwergerGarn Opal, [75% wool, 25% nylon],
color: 5 (blue & white patterned), <1 ball

Needles:

US XX

Size:

large size in the pattern

Finished:

July 2006?

Modifications:

I used an eye-of-partridge stitch on the heel flap instead of the specified heel stitch. I added an extra decrease round to the gusset to make the foot part narrower. I also changed the toe slightly to make the transition from the pattern section to the stockinette toe section smoother. Also, I used my asymmetrical toe shaping.

Comments:

I made these socks as a gift for my mom. They were much more successful than my first attempt at the Jaywalker pattern, which was using Sockotta yarn. That yarn is part cotton and is far too non-stretchy for this pattern. This yarn worked much better.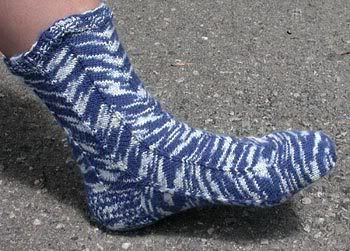 Jaywalkers modeled by my mom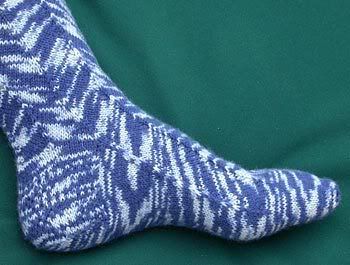 Labels: Socks