Pattern:

Simply Lovely Lace Socks by Karen Baumer, from Interweave Knits, Spring 2006

Yarn:

Zitron Trekking XXL, [75% superwash wool, 25% nylon],
color: 76 (black, brown, red), <1 ball

Needles:

Addi 2.5mm, toes done on Addi 2.0mm

Size:

women's medium

Finished:

July 2006?

Modifications:

I made the fingering-weight version with the picot edge, but, since I hate a tight-fitting cuff, I cast on six extra stitches to have one more lace repeat at the top of the ankle. After completing the picot edge hem, I slowly decreased away the extra stitches (see picture to the right).
I made another modification, but I did not do so intentionally. I accidentally skipped a row of the lace repeat, which I did not discover until I had several inches of the ankle completed. At that point I decided my 3-row repeat (instead of 4-row) didn't look so bad, so I just perpetuated the mistake throughout the rest of both socks. The pattern as written would have resulted in a less open pattern (with yarnovers every 4th row, instead of every 3rd row), which I probably would have liked better. Oh well.

Comments:

In the right yarn, I'm sure these socks would be quite nice. However, this is not that yarn. It is far too dark for lace socks. When you wear them your pale skin shows through and the effect is not attractive (in my opinion). However, Daughter#1 likes them so I gave them to her.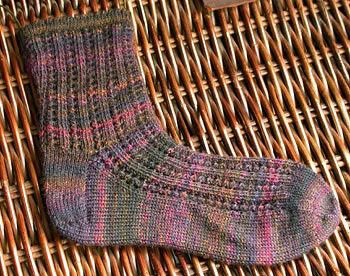 blech!
Labels: Socks