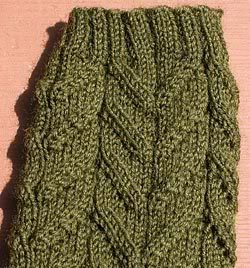 Pattern:

Cascading Leaves Socks by Jeanie Townsend,
pattern available by joining the Townsend Socks Knitalong group on Yahoo

Yarn:

Froehliche Wolle Special Blauband, [80% wool, 20% nylon],
color: 69 (dark olive green), <2 balls

Needles:

US 1

Size:

women's medium

Modifications:

I modified the ribbing at the cuff to flow more smoothly into the lace pattern. Also, I expanded the lace pattern by 2 stitches and 2 rows per repeat to make the sock wider.

Gauge:

9 sts/inch in stockinette

Finished:

May 2007

Comments:

This is the second time I have knit this pattern, and I really like it. I made these for my step mother. I think I need to knit myself a pair.
as modeled by Daughter#1
Labels: Socks