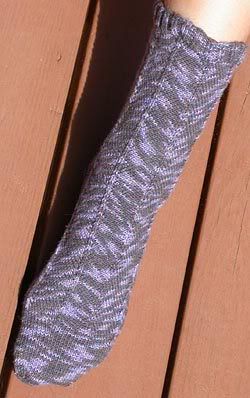 Pattern:

Jaywalker by Grumperina, from MagKnits Sept 2005

Yarn:

Plymouth Sockotta, [45%cotton, 40% superwash wool, 15% nylon],
color: 26 (purple with black & brown), <1 ball

Needles:

US 1

Size:

large size in the pattern

Modifications:

I added an extra decrease round to the gusset to make the foot part narrower. I also changed the toe slightly to make the transition from the pattern section to the stockinette toe section smoother. Also, I used my asymmetrical toe shaping.

Finished:

May 2007

Comments:

I don't know what I was thinking when I bought this yarn. It is truly hideous. I thought the Jaywalker pattern might make the yarn look better, but no such luck. Anyhow, I pawned them off on Sister#2. She said they weren't too bad. I think she was just being nice.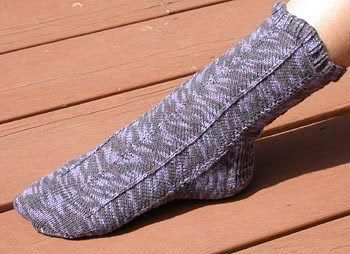 as modeled by Daughter#1
here you can see the heel stitch on the heel flap
detail view of the cuff, which flares slightly where the ribbing meets the stitch pattern (but it is not really noticeable when worn)
Labels: Socks