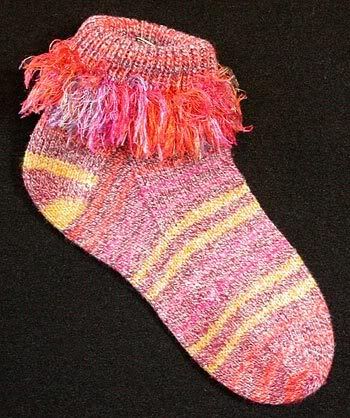 Pattern:

Basic stockinette socks with a ribbed cuff and fun fur trim

Yarn:

Plymouth Sockotta, [45% cotton, 45% superwash wool, 15% nylon],
color: 617 (red/orange/yellow stripes), leftover yarn from a pair of women's socks
for trim: Stylecraft Eskimo [100% polyester],
color: 5486 (SherbertFizz)

Needles:

US 1

Gauge:

8.5-8.75 sts/inch

Size:

child's

Finished:

January 2005

Comments:

To make the fluffy edge to the cuff, I cast on with the fun fur and knit 3 rounds in K1P1 ribbing. Then I switched to the sock yarn for the rest of the sock.
I really like Sockotta yarn. However, it does seem to fade quite a bit with washing and wear. Also, this yarn is very inelastic and so is not good for patterns that need a lot of stretch (like Jaywalkers -- I learned that the hard way).
Daughter#1 modeling the up and down cuff positions
Maybe I should call these the Heat Miser Socks.
Labels: Socks