Pattern:

plain stockinette socks with purl ridges at the ankle

Yarn:

Lion Brand Magic Stripes, [75% wool, 25% nylon],
color: 206 (Lumberjack Black Pattern), made with yarn leftover from a pair of men's socks

Needles:

Addi 2.5mm

Gauge:

7.5 sts and 10 rows/inch

Size:

child

Finished:

January 2005

Comments:

In an attempt to make these socks a little more fun, I incorporated purl ridges into alternate bands of red at the ankle. When the yarn changed to red, I knit one complete round and then started purling. When the red section ended, I stopped purling and switched back to knitting. This resulted in having every other red stripe being raised. It's hard to see this in the pictures here, but it is much more obvious when they are worn.
Every other red stripe was purled instead of knit.
Although not the most exciting yarn around, Magic Stripe is sufficiently soft and does seem to hold up fairly well. It does pill somewhat, but not excessively.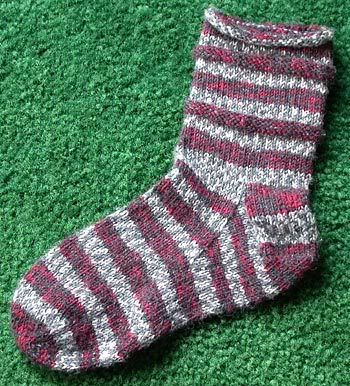 Labels: Socks