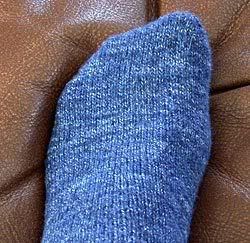 Pattern:

Just a plain old top-down sock, but the cuff is from the Fancy Silk Sock pattern from the book Knitting Vintage Socks by Nancy Bush
This pattern used to be available on About.com, but I can no longer find it there.

Yarn:

Lang Jawoll Cotton Superwash, [49% wool, 35% cotton, 16% nylon],
color: 88.0134 (dark denimy blue), <2 balls

Needles:

US 1

Size:

women's medium

Finished:

November 2005

Comments:

I love the denimy color of this yarn. It has held up well so far.
I can't remember why I only did the cuff from this sock pattern. I think I was just looking for a non-ribbing, non-rolling cuff to try out. Anyhow, I think it turned out well. These socks fit great.
detail of the fancy cuff
Labels: Socks