Pattern:

Log Cabin Socks from Handknit Holidays

Yarn:

Rowan Cork [95% merino wool, 5% nylon]
color: color 045 (Snuggle), about 2.5 skeins

Needles:

US6 DPNs

Size:

Men's (although made for a woman's size 8.5 feet)
The Cork label recommends a gauge of 14st=4" (on a US11), but this pattern calls for it to be knit at 24sts=4" for the women's size. I found it impossible to obtain this tiny gauge no matter what size needle I used, and I am generally a TIGHT knitter. Instead, since I have large-ish ankles, I decided to go with the directions for the men's size (which was about the gauge I was getting anyway, 20st=4")

Modifications:

Picked up 12 st (inst of 11) on each side of heel flap (to help prevent the dreaded gap at the gusset corner). Also, since I was making the large size but only wanted a large ankle and a normal foot, I decreased until I had 24 sts left on the sole (inst of 28).

The pattern has you knit the toe in stockinette, but in the book the toe looks too floppy (because of the change in gauge from the cable part). So, instead I knit the toe part in ribbing -- continuing the pattern but without the cables. On the first foot (shown on the right) I continued the cable column of stitches as stockinette -- but it got puffy, so I dropped the middle 2 stitches back on one of the cables and purled them (for a more ribbed effect). I was too lazy to do the same for the other cable section because I would have had to undo my decreases. On the second sock, I finished both cables that way.)

I also made the decreases for the toe in such a way as to make them more anatomically correct (at least for me and my large big toes). This does make one sock a 'dedicated' left sock and the other a 'dedicated' right, but they fit me sooo much better that way. Here are my directions for making anatomically correct sock toes.

Finished:

January 2006

Comments:

I am NOT a big fan of this yarn -- at least not when knit at this ridiculous gauge. My fingers were sore from knitting so tightly, especially with the cables. Also, I don't know WHY I knit these socks in a HANDWASH ONLY yarn. WHAT was I thinking? I think I got caught up in all of the excitement over these socks over at the Handknit Holidays Knitalong (and the fact that Cork was on sale at WEBS at the time).

Also, I had promised myself to not knit any more socks out of non-sock yarn, and these only have 5% nylon which doesn't quite cut it. I'm sure they will wear out instantly and I will be annoyed at the wasted effort. Sigh.

On a more postive note, the pattern is pretty cool, and they do fit well. I may make them again, but with a different yarn -- something much thinner. Although then I'd have to adjust the pattern for the new gauge.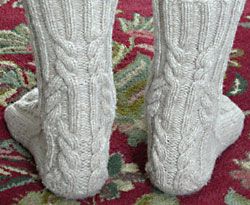 Labels: Socks