Pattern:

No real pattern, just reverse stockinette socks

Yarn:

Blue Moon Fiber Arts, Socks That Rock, mediumweight [100% superwash merino],
color: Farmhouse

Needles:

US 2

Gauge:

7.5 sts/inch

Finished:

September 2006

Comments:

This was the first time I've used STR yarn and I have to say, I can see what all the commotion is about. This yarn is great. Very boing-y and soft. I wonder how it will hold up to wear though? It seems to be getting fuzzy rather quickly.
You may be wondering why it looks like my socks are inside out. Well, that's because they are. I decided I liked the way the colors mixed better on the reverse stockinette side of the sock, so I decided to make that the outside. I knit them normally (with the knit side out) and just turned them inside out at the end before weaving in the ends. All I did differently was to pick up the stitches on the sides of the heel flap as to purl instead of as to knit.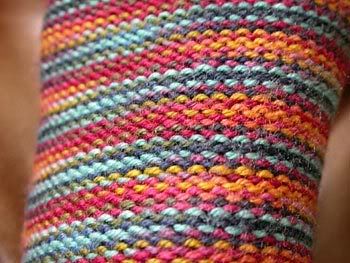 the interesting reverse stockinette side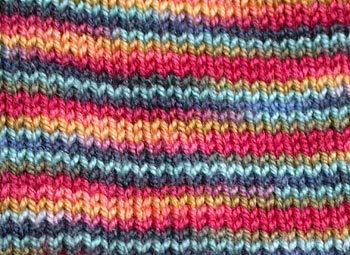 the boring stockinette side
I was unable to achieve the recommended stitch gauge for this yarn. Usually I like my gauge for socks to be a little tighter than the label recommends, but I found it IMPOSSIBLE to get the recommended 8 sts/inch with this yarn, no matter what needles I used or how tightly I knit. Oh well, I think they are fine at 7.5sts/inch. I just think it's weird...
There was a bit of color pooling during the gusset decreases (as you can see in the pictures below) but it doesn't really bother me very much.
red/yellow pooling on one side
blue pooling on the opposite side
Labels: Socks