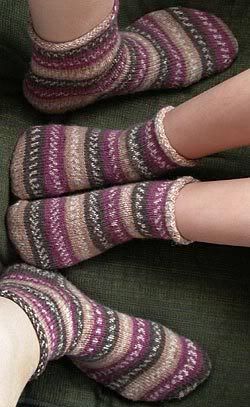 Pattern:

no real pattern, just plain stockinette socks

Yarn:

Knit Picks Simple Stripes, [75% superwash wool, 25% nylon],
color: 23547 (brown, tan, dark mauve stripes), <3 balls

Needles:

US 1

Gauge:

9 sts and 12 rows/inch

Size:

women's medium, child's

Finished:

Aug/Sept 2006

Comments:

I made the larger pair of these socks for Sister#2 for her birthday. I had another ball and a half left over, so I decided to make a matching pair for her daughter, Niece#4.
Yes, I know, one of Sister#2's socks has the color pattern reversed. I'm pretty sure that was the way the yarn was on the ball, since I usually use the yarn coming from the inside of the ball. Oh well, at least I got Niece#4's socks to line up nicely.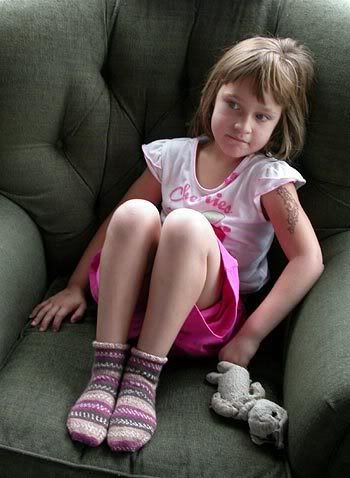 Niece#4 in her socks with Number 1 Bunny (her name, not mine)
Gratuitous close-up of Number 1 Bunny
Labels: Socks