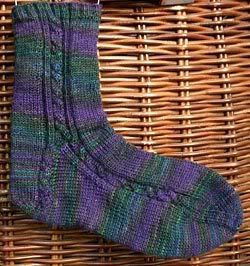 Pattern:

my own: basic stockinette socks, with a narrow cable running down each side

Yarn:

Mountain Colors Bearfoot, [60% superwash wool, 25% mohair, 15% nylon],
color: Steelhead, <1 ball

Needles:

Addi 2.5mm?

Size:

women's medium

Finished:

November 2006

Comments:

I made these as a gift for my friend Maria. I really love this yarn. It is very warm and cozy and seems to hold up well.
In retrospect, I should have made the cable a little wider and maybe given up on the idea of trying to have the cable split and go down the side of the heel flap as well as the foot, since that part ended up looking a little awkward. Maybe I'll try these again sometime with a modified cable pattern.
Labels: Socks