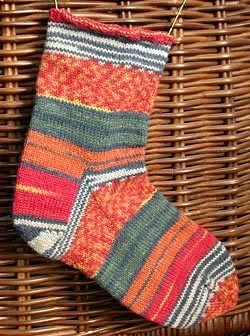 Pattern:

no real pattern, just plain stockinette socks

Yarn:

ZwergerGarn Opal [75% wool, 25% nylon],
color: 1230 (orange/red/blue/green/yellow/white pattern), <1 ball

Needles:

US 1

Size:

women's medium

Finished:

October 2006?

Comments:

I made these socks as a Christmas present for SisterInLaw#1. When I bought this yarn, I had no idea it would turn out this 'funky'. However, SisterInLaw#1 seems to like them (or maybe she's just being polite).
As you can see, I made no attempt to match up the color repeats on these socks. Actually, it looks like I worked from the other end of the ball for the second sock, since the color repeat is reversed. I think that makes the socks more fun that way. After all, if you're going to wear crazy-patterned socks, they might as well not match.
Labels: Socks