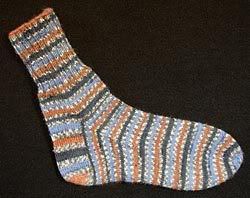 Pattern:

Basic sock with 2x2 ribbed ankle and stockinette foot

Yarn:

Lion Brand Magic Stripes, [75% wool, 25% nylon],
color: 205 (brown/blue pattern), 1 ball

Needles:

US 2 (ankle), US 1 (foot)

Gauge:

8.25 sts/inch

Size:

men's medium

Finished:

Fall 2004

Comments:

Not a thrilling sock yarn, but it has held up well. The socks are over two years old and have gotten a lot of use, and they are still looking fine (with a little pilling).
Update on Feb '07: These have now developed a hole.
Labels: Socks