Pattern:

Basic stockinette socks with K2P2 ribbing at cuff

Yarn:

Unnamed worsted-weight yarn bought at an inn in New Hampshire in 2003 [100% wool],
color: dark brown and natural

Needles:

US 6

Gauge:

4.5 sts/inch?

Finished:

Fall 2004

Size:

men's medium

Comments:

Since this yarn was 100% wool, it did not last long as socks. I duplicate-stitched the soles of these with a sock yarn containing nylon in an attempt to extend their life. This would have looked better if I had used a matching color of yarn, but I didn't have any at the time.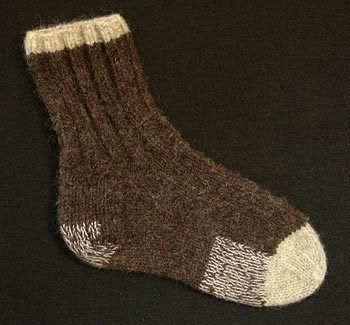 You can see my patch job at the heel and ball of the foot.
Labels: Socks