Pattern:

Swizzle Socks pattern from the yarn ball band

Yarn:

Reynolds Swizzle, [75% merino superwash wool, 25% nylon],
color: 4009 (Rust), 1 ball

Needles:

US 1

Gauge:

9 sts/inch

Finished:

Spring 2004

Modifications:

I worked these at a tighter gauge than specified in the pattern. I also made a shorter ankle with no ribbing and substituted my anatomically correct toes.

Comments:

These were my second pair of fingering-weight socks. I used the pattern on the inside of the ball band and it worked out pretty well. These socks have been worn a lot in the past 2+ years and they have held up pretty well. They have developed some pills, but there are no signs of any holes.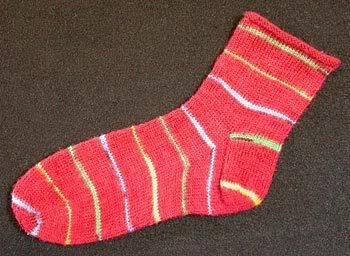 You can see some of the pilling in this picture.
Labels: Socks