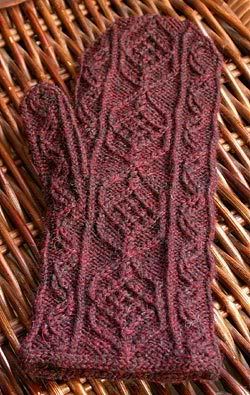 Pattern:

Austrian Mittens, designed by Candace Eisner Strick (provided as part of her Strickmuster class that I took at Webs)

Yarn:

ReynoldsWhiskey, [100% wool],
color: 16 (dark red & black mix)

Needles:

US 3 (and US 4 for the i-cord at the bottom)

Gauge:

7.5 sts/inch in stockinette, about 9 sts/inch in pattern

Size:

women's medium

Modifications:

My gauge with this yarn was a little tighter than that specified in the pattern, but I did not change the number of stitches for the hand since the sample mittens made from the pattern (which Candace brought to class) were a little big on me. I started with the i-cord edge, but I kitchenered the i-cord together at the ends, instead of having extra i-cord hanging down (kind of like tassels). Also, I did not want to include the gauntlet part of the cuffs, so I cast on just enough stitches for the hand of the mitten. I widened the thumb and knit the inner part of it (the part toward the palm) in reverse stockinette, instead of twisted ribbing.

Finished:

November 2006?

Comments:

I really enjoyed making these mittens, although it did require me to pay a lot of attention to the chart. Once I got about halfway through the first mitten, all of the manipulation of the stitches started to come more easily, and the project moved along more quickly. I really like the way this pattern had you start with an i-cord edge and then pick up stitches from the side of that to start the hand. That makes a nice, clean bottom edge for the mitten. I used Reynolds Whiskey for these mittens because it was one of the few yarns then available at Webs that was the right fiber content and roughly the right gauge for this pattern. It really doesn't show off the stitch pattern to its best advantage (a lighter color and a smoother yarn would probably have been better), but my choices were limited and I do like the color. I would definitely use this yarn again for a different sort of pattern. I love these mittens and they fit great. I intend to make another pair of them sometime, but using a yarn like Louet Gems Merino (the recommended yarn for the pattern).
Labels: Mittens/Gloves