Pattern:

Interweave Knits, Fall 2005, Yarn Spotlight section

Yarn:

elann.com Peruvian Sierra Aran [80% highland wool/20%alpaca]
colors: 0683 (Chestnut), 1.5 balls.
0783 (Russet), scraps for trim.

Needles:

US 8 DPN's

Finished:

Jan 2006

Comments:

This was my third pair of handwarmers made using this pattern. I made these as a slightly late Christmas present for my mother in law.
I really like the colors of this yarn, but after knitting with it for a long time (as I did on this scarf) it started to really irritate my fingertips. It could definitely stand to be a little bit softer.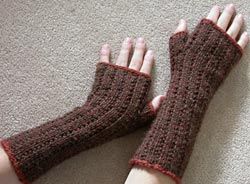 As modeled by Daughter#1
Labels: Mittens/Gloves