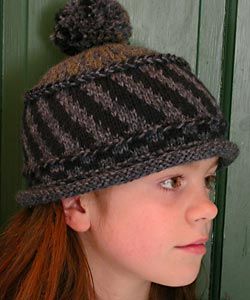 Pattern:

Variation of the Candy Cane Hat from Handknit Holidays

Yarn:

Cascade 220 [100% Peruvian highland wool], leftovers
colors: ??

Needles:

US7

Size:

hmmm...

Modifications:

I added a little checkerboard strip to the bottom, surrounded by more of those braid things (explanation here).

I also put a pompom on top, instead of the I-cord in the pattern.

I ran out of the navy blue yarn halfway through and had to switch to gray for the top of the hat. This didn't turn out so great because the gray doesn't have enough contrast with the heathery blue so you can't really see the swirl on the top. But, hey, I used up leftover yarn, and that was the goal.

Finished:

December 2005

Comments:

This was the very first pompom I have ever made. Not sure I enjoy making those. I did learn that more yarn is better when it comes to pompoms.
Labels: Hats