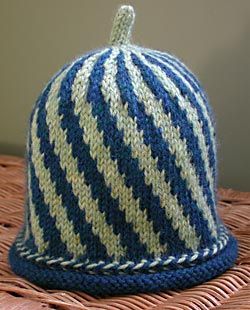 Pattern:

Candy Cane Hat, from Handknit Holidays

Yarn:

Cascade 220 [100% Peruvian highland wool], leftovers
colors: ??

Needles:

US7

Size:

hmmm...

Modifications:

I only did a nubbin at the top, instead of the long knotted umbilical cord sort of thing in the pattern.
I also added the braid sort of thing at the bottom of the stripes. This is done by purling while alternating colors and stranding the unused color on the right side so it forms little slanting lines. I can't find my notes, but it looks like I did two rows of this, stranding the colors the opposite way in the 2nd row. This is a cool technique I learned at a great Annie Modesitt class at WEBS.

Finished:

December 2005

Comments:

This hat was a Christmas present for Niece#4. It was fun to make and I love the way it came out.
In fact, I liked it so much I made a variation of it for Daughter#2.
Labels: Hats