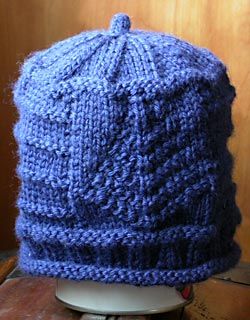 Pattern:

Hat from Child's Guernsey Sweater & Hat pattern booklet (Design by Louise, Design #23, purchased at WEBS)

Yarn:

Dale Free Style [100% wool, machine washable]
color: 5364 (purplish dark blue)

Needles:

US 7

Size:

6 yrs

Modifications:

I knit this in the round, instead of flat.

I was making this for a 1 1/2 year old, but I made a size 6 because I wanted it to fit for a while. However, the picture in the pattern makes it look like a really tall hat, so I shortened it by making only 1 one purl ridge at the top and bottom, and by knitting only 27 rows of the chart (instead of 30).

Finished:

September 2004

Comments:

This was my FIRST hat (awwwww). I made for Nephew#4 to go with his sweater.

I was not thrilled with this yarn, since it split a lot. But it was soft and machine washable and has held up well.
Labels: Hats