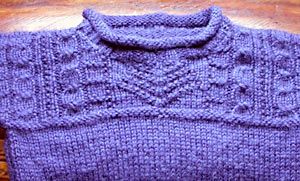 Pattern:

Child's Guernsey Sweater from a Design by Louise pattern booklet, Design #23 (purchased at WEBS)

Yarn:

Dale Free Style [100% wool, machine washable]
color: 5364 (purplish dark blue)

Needles:

US7

Size:

4 yrs

Modifications:

none

Finished:

September 2004

Comments:

This was my FIRST sweater (awwwww). I did not yet know how to seam and I had a miserable time doing so in such a dark yarn. Since then I've had seaming lessons with a great teacher, and I don't completely dread seaming like I used to (well, maybe just a little). I made this for Nephew#4, who was 1 1/2 yrs old at the time. I made a size 4 so it would fit for a while, but it came out smaller than I expected. However, it still fits him and he is now 3.

I had to cast off with a US9 because the neck opening came out too tight when I cast off with a US7.

I was not thrilled with this yarn, since it split a lot. But it was soft and machine washable and has held up well.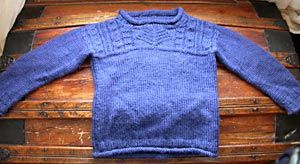 I also made a matching hat from this pattern booklet.
Labels: Tops/Sweaters