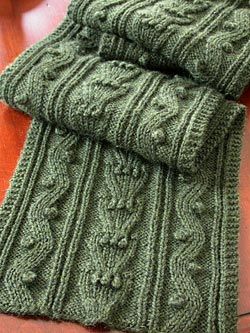 Pattern:

Forbes Forest by Kathy Zimmerman, from Scarf Style

Yarn:

Jo Sharp DK Wool, [100% wool],
color: 908 (glade), 5.5 balls

Needles:

US 6

Modifications:

none

Finished:

February 2006

Comments:

At first I didn't think I would like this pattern. There was just too much going on with all the cables and bobbles and whatnot. However, after memorizing the pattern & bobble technique, I really started to enjoy making this scarf. It is rather slow knitting since there are cables to cross or bobbles to make on every right-side row, but cabling without a needle can really help your speed. [I like Grumperina's instructions.] And the technique works really well here because the cables are so narrow.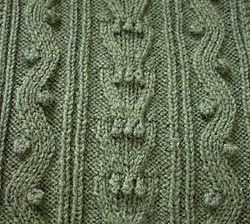 This was my first project with bobbles, and I have to say that I think I am now a bobble convert. Previously, I poo-pooed all bobble-containing patterns. But now I'm a fan. I found that knitting backwards on the second row of the bobble (instead of turning) really made bobbling much more enjoyable. Here are some links with instructions on how to knit backwards English style and continental style, in case you are not familiar with this technique.
I really like this Jo Sharp DK Wool. It's soft and the colors are interesting. I bought a bunch of it on sale at WEBS a while ago, but I may need to buy more.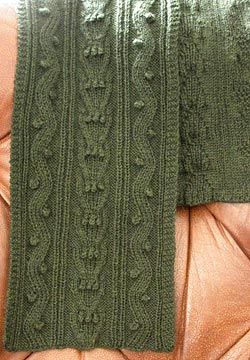 Labels: Scarves