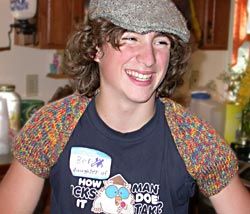 Pattern:

One Skein Wonder (mini shrug) purchased from glampyre knits.

Yarn:

Classic Elite Beatrice [100% merino wool]
color: 3202, Crayon

Needles:

US 10

Size:

15" shoulder-to-shoulder size

Modifications:

none

Finished:

July 2005

Comments:

As you can probably guess from the picture above (modeled by Nephew#1), this project was NOT what I would call a 'success' (at least in terms of wearabilty). I was trying to use up this yarn that I had only 3 small balls of, but the yarn was just too COLORFUL for this project. It feels too small on me, but actually, I would say it fits me about the same way it does on Glampyre in her pics. I guess I'm just not the kind of gal who can pull off a mini-shrug. However, the pattern was great and it was a super-fast knit.
This yarn is really soft, and I'm sure I'd like it better in another color. I don't know WHAT possessed me to buy this color.
I think I like it better this way (as modeled by Niece#1).
Labels: Tops/Sweaters