(real photos coming soon)
Pattern:

Orlando Ajoure & Cable Sweater from a free pattern at elann.com (originally from Spring/Summer 2003 issue of ONline Magazine)

Yarn:

ONline Linie 15 - Orlando [39% cotton/39% acrylic/22% nylon] (wide ribbon)
color: 002, Faded Denim
9 balls

Needles:

US 15

Size:

small (6-8)

Modifications:

Converted to knit the body in round up to armhole to avoid having a seam in the middle of the lacy side panel. I knit the sleeves in round for the same reason. I knit the cuffs flat, but grafted them together to avoid a seam there.

Finished:

July 2005

Comments:

I normally don't really like working with ribbon, but when I saw this sweater on elann's web site, it just called out to me. I really like how it came out. It's great for a cool summer evening with a camisole.
Also, I liked working with this ribbon. It was very soft and fabric-like and pleasant to work with.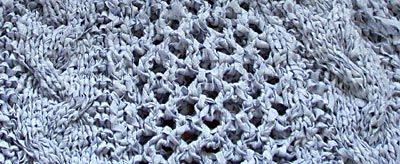 Labels: Tops/Sweaters