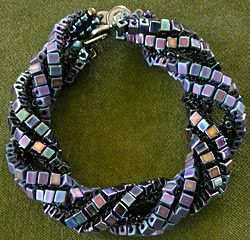 Pattern:

Twin Twisters Beaded Bracelet Kit (I got this kit from Patternworks a few years ago. However, they don't appear to offer it anymore.)

Thread:

25 yds New Metallics (2-ply metallic polyester thread), made by On the Surface, used doubled

Needles:

#0000 DPNs

Beads:

4mm cube beads and size 8 seed beads, in both matte and shiny iridescent finishes

Modifications:

none

Finished:

April 2006

Comments:

This kit contains supplies to create two knitted bead bracelets. The two bracelets are knit in such a way that the beads are offset on each side, so the bracelets twist by themselves. You can wear them separately as two bracelets, or you can wrap them around each other and wear them as one thick bracelet. I think I prefer them worn separately -- they have more character that way.
bracelets worn together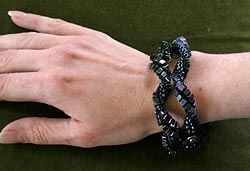 bracelets worn separately
I might make some more of these, but I think I would use a different clasp -- this one is just a little too visible.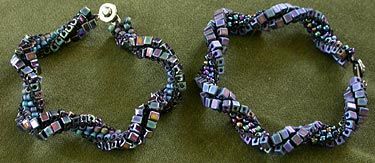 Although these needles are tiny and the thread is slippery I still enjoyed knitting these bracelets. They were very quick to make and not difficult. I would just recommend that you work in very good lighting to avoid going blind when trying to pick up a dropped stitch.
If you look closely you can see that the beads in each bracelet are different: one has matte cube beads on the outside of the twist and shiny seed beads on the inside, the other has shiny cube beads on the outside and matte seed beads on the inside.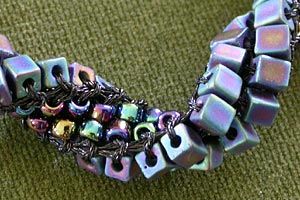 matte beads on outside, shiny beads on inside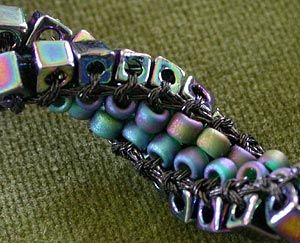 shiny beads on outside, matte beads on inside